Top 9 Coats & Jackets for Your Dog To Stay Warm & Dry
With autumn arriving soon and the weather due to take a cold turn its time to start thinking about giving your dog some extra layers to keep them protected from the rain and colder weather.
We recommend investing in a dog jacket that will be both waterproof and warm, however, depending on the breed of your dog you may want to choose a more lightweight jacket as their fur may provide enough warmth already. So if your looking for advice as to which is the best type of jacket for your dog then you are in the right place!
Waterproof Dog Jackets
Waterproof jackets for dogs will provide efficient protection from rain – Many waterproof jackets will offer a warm under layer as well which gives your dog 2 in 1 protection. Depending on the breed of dog you have you may need a coat that offers this. Some breeds of dog will already have a thick coat and a 2 in 1 coat may not be needed.
Here are our top 3 waterproof jackets for dogs!
1. Ruffwear Vert Waterproof Dog Jacket
2. Ruffwear Stumptown Dog Jacket
3. Redhound For Dogs Norfolk Whippet Harness Hole Dog Coat
Fleece Coats and Non-Waterproof Dog Jackets
When there is no forecast for wet weather but it's looking pretty cold outside its worth giving your dog an extra layer of warmth especially if they are short-haired or are a breed known for needing a dog coat in cold weather. Sighthounds often require a warm layer due to their short fur and thin skin. Smaller breeds may find this kind of dog jacket too bulky so do bear that in mind.
Here are our top 3 Fleece Coats and Non-Waterproof Dog jackets for dogs:
1. Ruffwear Climate Changer Fleece Dog Coat in Blue
2. Redhound For Dogs Yorkshire Washable Whippet Dog Coat
3. Rukka Comfy Fleece Black Mix 990 Jacket in Grey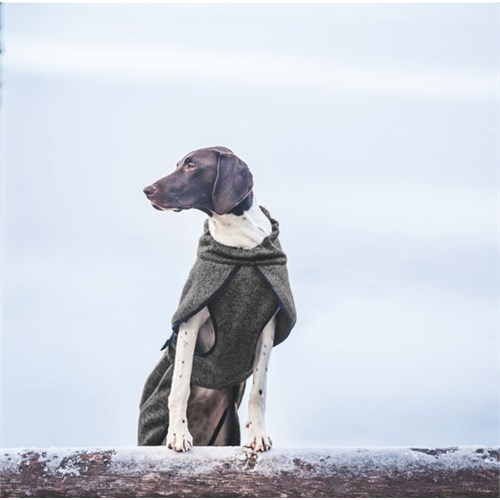 Dog Jumpers, Dog Hoodies & Dog Fleeces
For some dogs an extra layer during the winter months can make all the difference or perhaps you're just taking a quick trip down to the pet store with your furry friend and don't want to put a bulky jacket on then we have the perfect solution for you! Dog Jumpers, Hoodies and Fleeces are a simple option and give your dog a touch of style while out and about or in the home. As a Whippet owner, I know my boy loves nothing more than lounging around the house wearing his favourite Hoodie during the colder months of Autumn/Winter.
Take a look our top 3 Dog Jumpers, Dog Hoodies & Dog Fleeces:
2. House of Paws Hoody Cable Knit Jumper
3. Bowl & Bone Republic Aspen Pullover in Pink