Petcube Play Review
The Petcube Play is the latest version of Petcube's best selling original camera, just launched into the UK for 2017. Now with 1080p HD video, night vision, enhanced Bluetooth connectivity, and a new compact design - available now at PurrfectlyYappy.com
The Petcube Play is perfect for new dog owners looking to check in on their new family member or pet owners with a busy life schedule who need to check in on their furry friend!
At PurrfectlyYappy.com we've been lucky enough to get our hands on the latest Petcube Play to test for ourselves! I have previously tested the original Petcube 1st Gen and I personally love the new compact design which is much less clunky and now comes in a carbon black colour. The set-up this time compared to the original Petcube was much faster and the process is as simple as ever, taking just a couple minutes to connect to my smart phone. The Petcube Play has a handy tripod socket hole so i've had it high up on my tripod in my bedroom (where my dogs love to sleep in the day.... and night).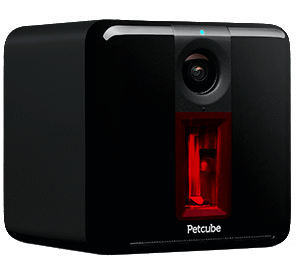 You can connect to the Petcube Play either via WiFi or using you Mobile Data and you can download the Petcube app for both iOS and Andriod. I have been using the camera to spy on my two dogs (Sterling & Beryl) while at work and out and about. Beryl is a new addition to our pack so it's been great to be able to see how the two of them are getting along at home.
I've been using the 30 day free trial of Petcube Care which can capture 30 seconds of video at a time and is triggered when your pets move about. This is a really handy way to be able to check in and see whats been happening without having to watch the camera live. There are three settings for Petcube Care: Awake, Quiet & Sleep - Awake will capture footage and send you notifications when videos have been captured. Quiet captures the videos still but doesnt send you a notification every time a video is captured and Sleep disables Petcube Care.
One of the best new features on the Petcube Play for me is the Night Vision mode. This is turned on automatically when the camera detects limited light, a really handy feature for people needing to connect with their pet in the evenings or through the winter months when it gets dark earlier. I managed to capture the Night Vision in action and it looks great!
The Petcube Play is a great peice of tech and even better, you can connect more than one camera to your Petcube app, so if you already own the 1st Gen Petcube you can still connect that one alongside the Petcube Play, I currently have the 1st Gen downstairs and the Petcube Play upstairs which means I can keep an eye on the dogs at pretty much all times! The Petcube Play currently retails at £149 which is just £4 more that the 1st Gen so you really do get great value!
Petcube Care gives you a 30 day free trial (no card info needed) and then after that you can get monthly or yearly subscriptions from $10-$30 depending on how much footage you'd like it to store for you.
Petcube Play is now available from PurrfectlyYappy.com - Stay connected with your pet and never miss a moment!